Deciding that you'd like your home to have a coffee maker is one thing. It's quite another when the time comes to choose just which specific coffee maker you're going to buy. You likely know Nespresso machine owners that rave about simplicity and convenience. Then again, you also probably know coffee addicts who couldn't do without the versatility that comes with a De'Longhi espresso maker.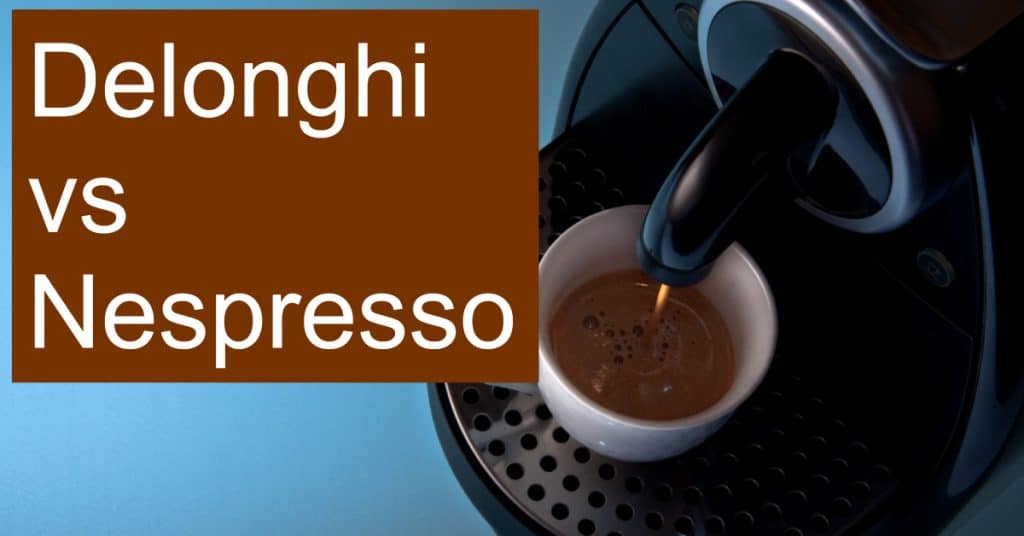 This, of course, raises many questions. What is the difference between a Nespresso machine and an Espresso brewer? Are Nespresso machines part of the De'longhi lineup? Perhaps most importantly, what is the better coffee brewer for home?
Nespresso has manufacturing relationships with appliance brands all over the planet, meaning you can get quickly get overwhelmed with how many possibilities there are on the current market. Fret not, because you're far from the first to fall into this trap. We've got your back.
We're here to shed light on the issue so that you can make a great decision you can be happy with at home.
First things first, let's cover some basic terminology.
Nespresso and De'longhi are among the most prominent players in espresso coffee makers, especially on the manufacturing side.
Of all the single-serving espresso machines currently on the market, Nespresso is among the very best. These machines have a patented brewing technology that multiple brands distribute around the planet.
De'longhi is a business based out of Italy, and it specializes in various kitchen appliances. Many different coffee and espresso makers are part of this.
Nespresso machines make your espresso coffee. They're usually a little cheaper than many espresso machines, but you won't usually get a frothing mechanism with them.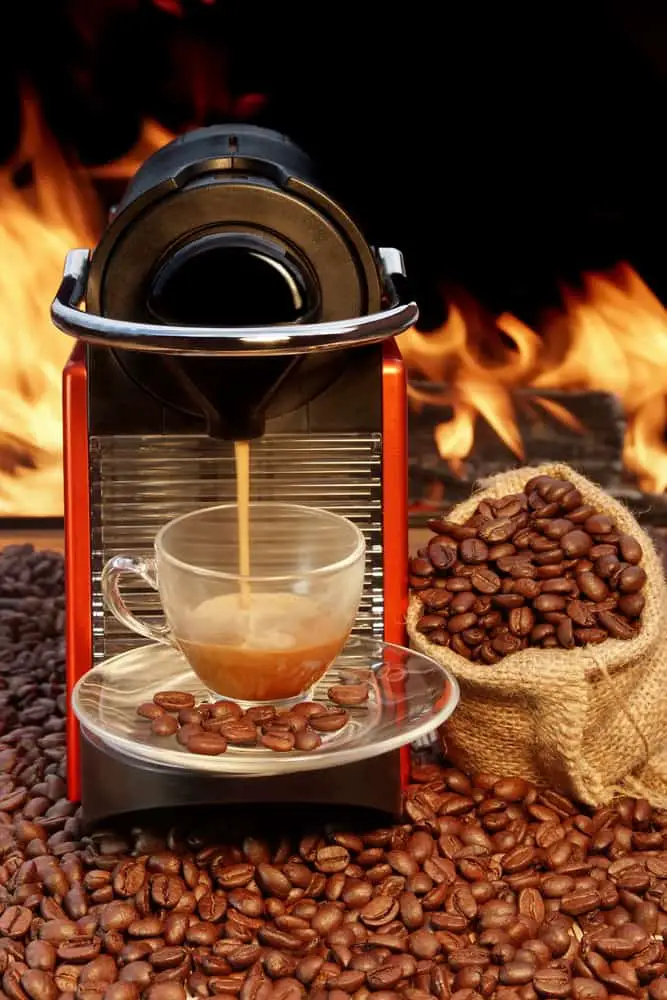 Company Backgrounds
Nespresso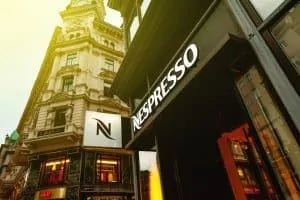 Nespresso is part of the Nestle brand family. The name itself is a cute combination of the name Nestle and the word Espresso. The company is based out of Lausanne, Switzerland. 
You'll likely notice that other brands in the Nestle family follow the same nomenclature, such as Nesquick or Nescafe. Eric Favre was a Nestle employee who originally invented the Nespresso system for making coffee. Nestle patented this back in 1976.
It took nearly a decade for Nespresso machines to capture the world's attention and hearts. Early markets included Switzerland, Italy, France, and Japan.
The 1990s were the peak of the brewing system when contracts were signed with players like Turmix, Krups, Siemens, Philips, Magimix, and Alessi to start production and sales of Nespresso machines.
It was in this time that De'longhi also joined in. Since then, the global Nespresso network has seen tremendous growth, including over 700 different boutiques across 68 nations.
Nespresso is more than three decades old now, and the basic concept was letting anyone make a great cup of espresso coffee just as well as an experienced barista could. Whether used at home or professionally, this brewing machine makes Espresso and coffee from capsules or pods.
Even though the Nespresso machine sees global sales, its coffee gets ground, roasted, and then encapsulated in three different factories in Switzerland. These are Romon, Anenches, and Orbe.
De'longhi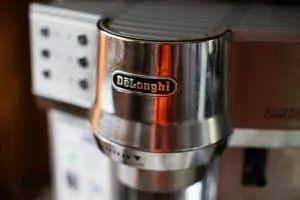 De'longhi started producing things in 1974 when the first oil crisis was raging. They created a radiator filled with oil that turned into an instant sensation.
Pinguino, their well-known icon, started 12 years later, generating rave reviews for its effectiveness in being a portable air conditioner. They jumped into the coffee machine market segment in 1993.
By 2001, they acquired Kenwood and Ariete, letting them expand their lines into even more household appliances. Two years later, they broke the mold by coming up with the first-ever highly-automated coffee machine.
Nestle noticed their success and agreed to a 2004 deal where De'longhi could start distributing their capsule coffee machines. In 2007, De'longhi started making Nespresso coffee machines through their Lattissima brand name. They haven't looked back since.
How Do Nespresso Machines Work?
Simplicity is probably the best part of the Nespresso machines. You just put a coffee pod into the Nespresso machine and then press a single button. The machine flushes hot pressurized water through the pierced pod to process the flavor. You get a cup of freshly brewed coffee in your mug around a minute later.
These pods are specially chosen coffee grounds. They're handpicked from several global farms, with everyone bringing a distinct character and aroma along with it. Nespresso is committed to protecting the global environment, which is why its coffee pods are manufacturing from recyclable aluminum and then hermetically sealed.
Nespresso machine owners can adjust the setting to the specific cup size that they like. They also get to pick from a variety of pods of different strengths and flavors.
The biggest drawback to the Nespresso machine for most users is buying different accessories for different coffee drinks. For instance, you would need to get a milk frother if you wanted something milk-based for your beverage, such as a cappuccino (Difference between Frappuccino and Cappuccino) or a latte.
The Primary Difference Between De'longhi And The Nespresso
One primary De'longhi feature that is distinct from the Nespresso would be the 'Hot Milk' integrated system on these coffee machines. This milk tank is detachable, and users can fill it with milk that gets heated up, mixed, and then frothed for coffee-based beverages. The tank is effortless to clean when it's empty, and users can even store it in their fridge if there's leftover milk in it.
In a Nespresso machine, the milk needs to be heated and frothed separately by the user. If you like milk with your coffee or beverage, then you can enjoy these features all-in-one with a De'longhi.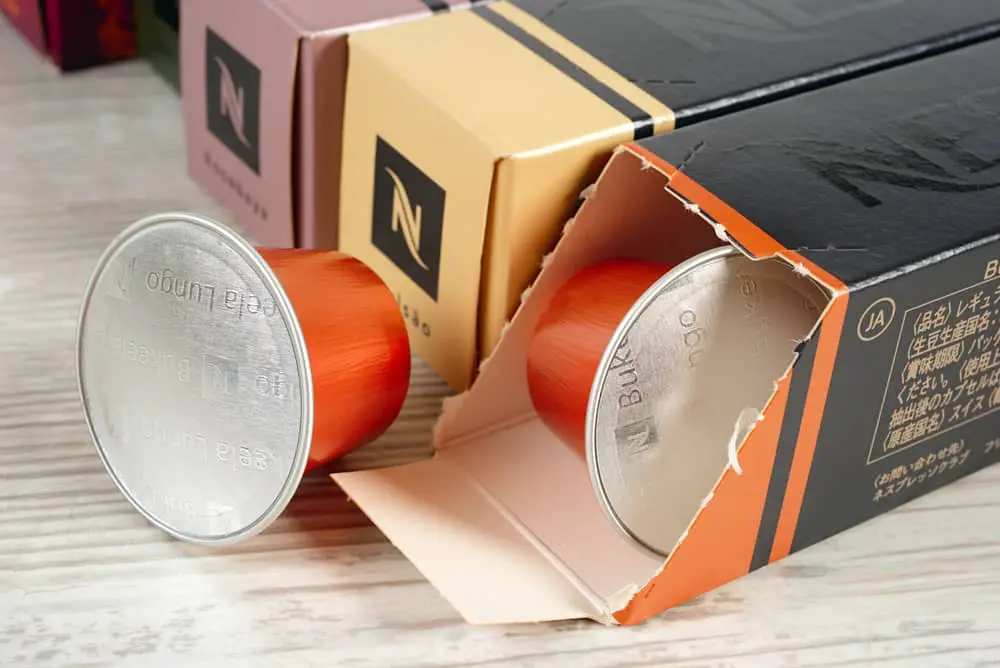 Deciding What Works Best In Your Home
Are you the kind of person that likes going through the step-by-step process of choosing what type of coffee you want in the morning? Or, do you need something strong, caffeinated, and dark to boost your early day? Knowing the answers to these questions can help you figure out whether you are better off with a De'longhi or Nestle Nespresso machine.
Given how the two machines have very similar functions, identifying 'the one' really boils down to your passion for a cup of coffee and your distinct personality.
Finite Or Infinite Coffee Choices
If you get a Nespresso machine, you can only use particular capsules or pods made by the manufacturer to make your coffee. Fitting the coffee pods made by other makers isn't a simple task, so your potential choices in coffee flavors will be somewhat limited.
On the other hand, while some of the De'longhi also use coffee pods, their machines are intended and created in such ways that you can use the pods from a variety of providers.
Speed, Convenience, And Difficulty Of Use
Does your average morning include some turbulence? Perhaps even some craziness? If so, then your best espresso machine for your home might be something that's no muss, no fuss. 
Nespresso machines certainly fit this bill. If you want the jolt of coffee sooner rather than later, then a Nespresso can put a fresh cup in your hands in just a minute or so. 
There's no need for waiting through a machine warm-up period before you get to say good morning to your first cup. Just put the pod in, hit a button, and you're ready to sip a minute later. For someone on the go, this convenience is unparalleled.
Patience is a virtue when it comes to De'longhi machines. They have far more attributes and features, giving you the chance to make adjustments to your coffee so you can tweak the taste just how you like it.
Specific De'longhi machines even have features that give you power over the grind sizes, making perfectionists very happy. Some even have water temperature controls. These units are great if you want to put in the time to find your ideal coffee tastes.
You need to factor in the time a De'longhi Nespresso unit needs heating milk to the point of frothing when you're going to brew a latte or a cappuccino. Even though this is done with the touch of a single button, it can add up to 5 more minutes before you get to sip your coffee.
Keeping a De'longhi machine up takes more work than Nespresso units do. The maintenance for a Nespresso brewer means descaling it periodically.
De'longhi units need to consistently have their grounds emptied, as well as the brewing unit. You also need to clean the coffee ground tray regularly.
If you're looking for a convenient and simple machine, then getting a Nespresso will likely work out better for your home over a De'longhi.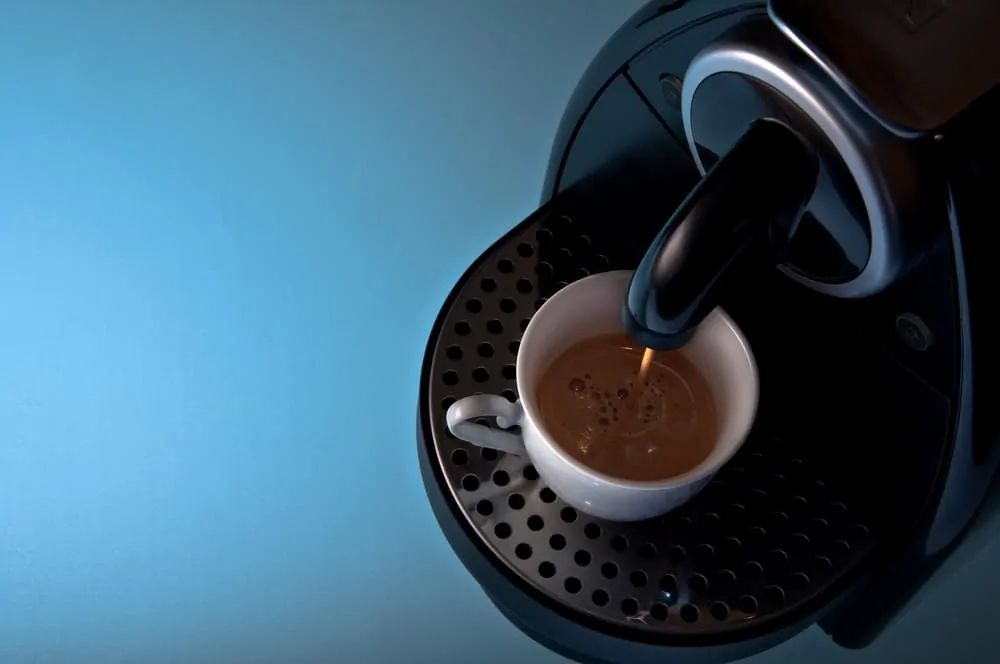 How Much Do You Spend On Coffee?
Nespresso units mean you have to buy coffee pods. You can find these both on the Internet and in boutique stores. However, the prices are a bit high.
Also, many users enjoy using two or even three of the pods for each cup of coffee so that they can get more strength in their brew. If you're an avid coffee drinker, like one cup each hour, then your need for a tasty brew is going to add up fast.
Granted, you can look for coffee pods that are compatible with your machine, and they're usually a lot more affordable than original Nespresso pods. However, they're not going to deliver the same caliber of coffee and taste. L'OR espresso pods are usually priced well without sacrificing quality and flavor.
De'longhi units let you use coffee pods while other models allow you to use coffee beans. In these, you can use beans, whole or pre-ground. Whole beans are going to give you a great flavor and aroma, more so than coffee pods or even pre-ground coffee, since the coffee beings losing what makes it special the second grinding starts.
De'longhi espresso machines let you pick coffee beans from around the globe, and that versatility opens up a lot of doors for you and other users. You can spend around $35 dollars on 50 Dark Roast pods from an original line. On the other hand, you can also get for that same money a 2+ pound bag of distinct coffee beans that still give you great flavor every time and last a lot longer than pods every will.
Over time, be it a month or a couple of years, the De'longhi machine will eat up a lot less of your money than a Nespresso will.
What Is The Coffee Brewing Capacity?
Nespresso coffee machines are simple to use since they only do a single cup each time. Smaller households with only one or two morning coffee drinkers can use these well.
If you're not particular about your single cup of coffee, then a Nespresso machine might serve you well. Homes that go through a lot more coffee or even small offices should look more into getting a De'longhi. 
Consider the various sizes of just one cup of coffee. An espresso is roughly 1.35 oz. with double espressos coming in at 2.7 oz. Five oz. would be a gran lungo, and 7.7 oz. for a black coffee. The alto comes in at 14 oz.
A typical Nespresso unit water reservoir has a capacity of 6 to 10 oz. In the De'longhi line, you can find machines capable of holding up to 60 oz.
That means some De'longhi machines can make far more cups of coffee than a Nestle Nespresso before you have to fill the reservoir back up. The decision really comes down to the volume of coffee you and anyone else make and drink in a typical day.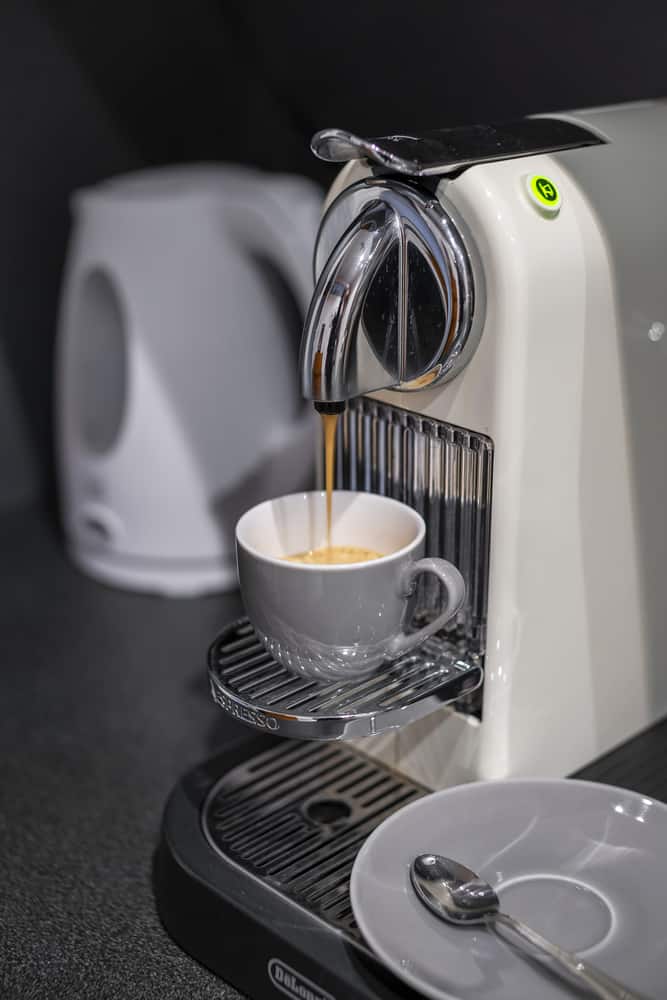 The Total Costs For Each Machine
Nespresso unit prices vary, but you can find budget models under $100. For quick and straightforward coffee without bells and whistles, these work great. If you want a Nespresso with milk, then the frother is a cost added on top of that.
On the other hand, the De'longhi units aren't as cheap. Their price range starts at $100 and can get close to $1000.
None of this is shocking considering how much technology and features they come with, letting you become a barista more than just a casual drinker. Delonghi machines cost more because you can make cappuccinos, warm milk, and creamy lattes thanks to single-touch recipe buttons, controls over water temperature, and even LED screens that come highly illuminated.
The attached appliances add up the price fast, but it's somewhat tempered by the ability to use pods, nonbrand pods, whole beans, and ground coffee if you want. Nespresso machines don't have this flexibility.
Upfront, the Nespresso looks like it wins on price, but the extended cost of the coffee pods make it more expensive the longer and more you use it. A De'longhi sets you back more with the initial expenditure, but you get far more options over time.
The Winner Is….
Nespresso machines do single servings of espresso coffee from branded pods and capsules. Even though Nespresso was the company where these machines were originally created, other companies now make and sell them. Every Nespresso machine has the same technology inside, although De'longhi units provide more perks.
You can save both time and money with the right coffee maker in your home. As such, you need to base your decision based on the features you need, the design, the size of the water reservoir, and whether you need a frother built-in or detached.
Put in the time necessary to find any coffee pods with maximum compatibility. Nespresso units can be simply to keep up and cost-efficient early on. However, the De'longhi machines let you do so much more.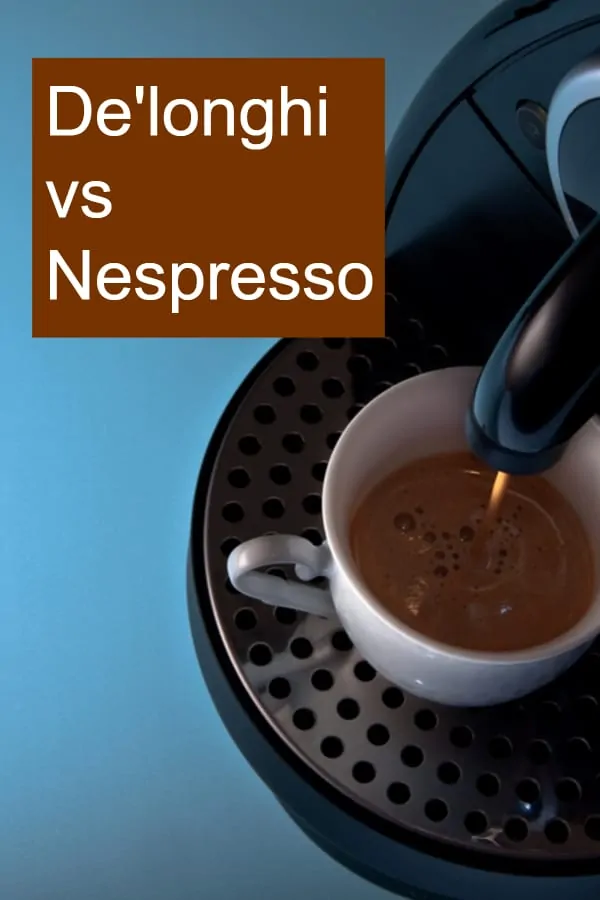 Please follow and like us: