As a coffee lover, you probably are always looking for new methods of getting the perfect brew with fewer hassles. If you are looking for a way to get some of the trendiest brews at home, then Nespresso machines are sure to tickle your fancy. These handy gadgets have been churning out some of the best coffee brews you can find short of a trip to your local barista. There are a few different Nespresso machines to choose from. Aside from the aesthetics, they each offer a different type of drink. They have their specific extraction methods, brew times, and even taste that are unique to each machine.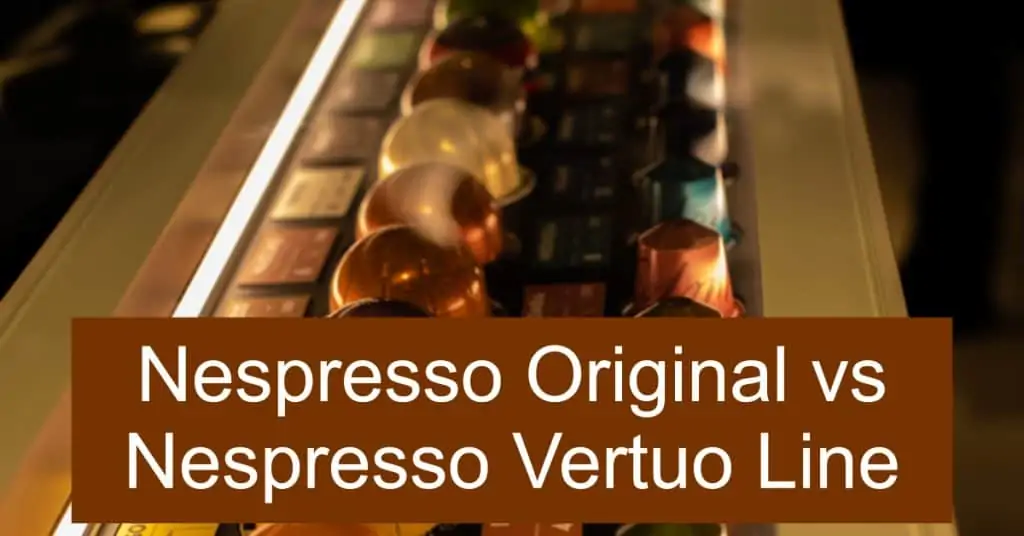 Though each machine has its following, the two that stand out the most are the Nespresso Vertuo Line and the Nespresso Original espresso machine. Both are high-quality coffee makers that offer a unique twist to the coffee brewing experience. If you are considering purchasing one of these machines, you have come to the right place. We are here to break down the differences between the Nespresso Vertuo and the Nespresso Original espresso machine to help you choose the one that will best fit your needs.
What is the Nespresso Original Coffee Brewing System?
The Nespresso original machine is perfect for those who love the classic taste and feel of traditional espresso. You will get the true authentic espresso experience with a pressure brew just like what you will find at a craft coffee shop. The machine itself features a modern look and sleek profile, making it an ideal choice if you are limited on space or want to use this machine in your office. It comes with a large selection of coffee pods from Nespresso or third-party vendors if you are looking for variety.
Nespresso Original Brewing Features & Capsule Sizes
The main features of the Nespresso original are its high-pressure 19 bar extraction system. This allows you to create a range of popular coffee drinks such as ristretto, lattes, and long blacks. Depending on the model you purchase, you can add milk foam to your brews with built-in milk frothers. It also has a single-touch system that makes brewing all types of espresso easier than ever. The Nespresso original is compact and also has an automatic cleaning feature which makes proper maintenance simple. The intuitive display makes for easy drink customization so that everyone gets the perfect cup every time you brew.
Another feature of the Original Nespresso coffee maker is the ability to use a wide range of coffee pods, even from third-party makers. This gives you the freedom to explore a larger variety of flavors and espresso strengths while still enjoying the operational functionality of the Original Nespresso machine. Regardless of what capsules you use, they are all the same size. Personalization will allow you to brew drinks such as the 1.35-ounce Espresso, an 8.5-ounce Ristretto, or a 3.7-ounce Lungo. Of course, you can change the size of your drink by adding another capsule to the same glass or adding more water.
What is the Nespresso Vertuo Line Coffee Brewing System?
Are you looking for a coffee maker that has a smooth design and can offer both regular coffee and espresso? If so, you will enjoy the Vertuo Brew Line from Nespresso. It offers superior performance with easy-to-understand automation and convenience. This versatile machine allows you to brew regular coffee drinks and espresso drinks in various sizes. For crema lovers, you can even add a generous dollop of froth at the push of a button. The Vertuo Line coffee maker operates on a capsule system which ensures that you will get a perfect brew in every cup. The actual machine is rather large and offers a robust brewing system that can handle households or offices of any size.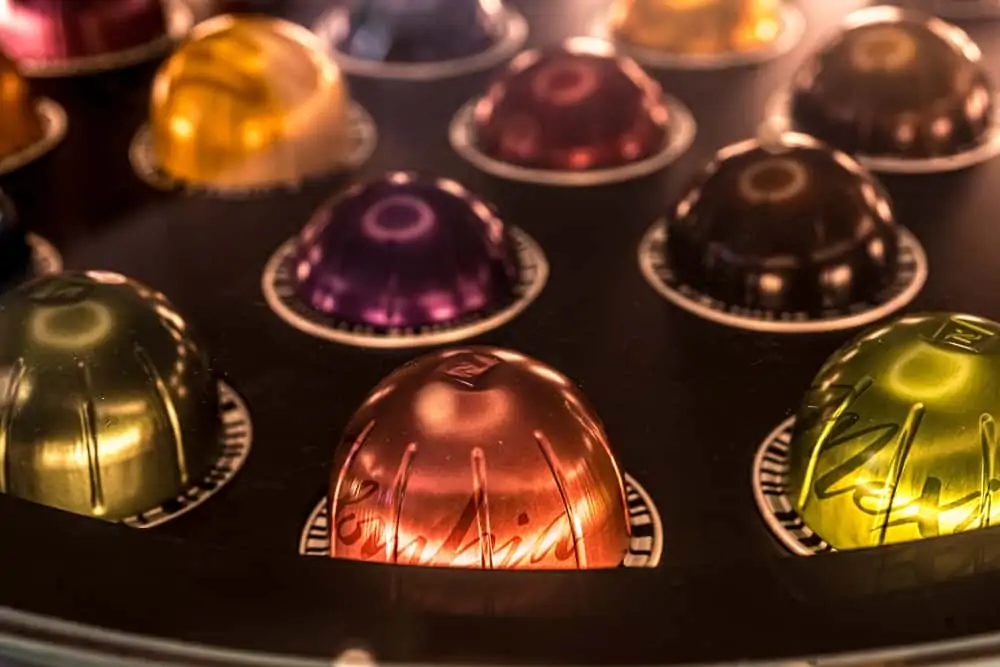 Nespresso Vertuo Brewing Features & Capsule Sizes
The main features of the Vertuo Line are its unique barcode recognition system which automatically scans each capsule when you put it in the machine. This ensures that each brew will have the right strength, temperature, and bold flavor every time you brew. It takes minimal effort to brew with this machine, and each cup is perfectly blended thanks to the innovative Centrifusion technology. When left idle, it will automatically shut off after nine minutes which will boost the machine's longevity and help save energy. The quick heat option allows you to have a cup of coffee ready in just a few minutes, which is perfect for people on the go and busy offices.
Another feature of the Vertuo Line coffee maker is its ability to make various size cups of coffee. It is compatible with every type of Nespresso brand capsule, which gives you the option of more than 23 different brews to choose from. Brews are available in five cup sizes, allowing you to customize your caffeine intake in the morning. You can brew a 1-ounce Espresso shot, a 3 ounce Double Espresso, a 5 ounce Gran Lungo, an 8-ounce Mug, or a 14 ounce Alto cup. Like all Nespresso machines, the brewing system is a single touch, no-nonsense machine. With a 1.7-liter capacity tank, you can brew all day without a refill.
What is the Difference Between Nespresso Original and Vertuo?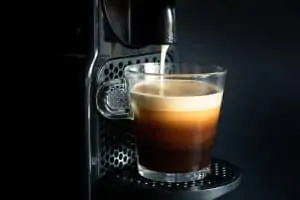 Nespresso coffee maker machines come in a few different configurations. The Vertuo and the Original Line are the most popular. The main difference between the two is that one can make both espresso and regular coffee while the other can only make espresso and espresso-based hot beverages. The size of the machines also differs greatly, so much so that you can easily tell them apart.
Specifically, Nestle created the Original Nespresso coffee maker machine to make delicious espresso and espresso-based drinks at home. It has a sleek profile that fits in with just about any home aesthetic with a slight lean towards modern styling. The Vertuo coffee maker machine, on the other hand, can make a regular cup of coffee in addition to bold espressos. With the added feature, the Vertuo Line also has a much bulkier profile than the original Nespresso machine.
The differences don't end at the brewing types or the size. Both Nespresso machines use capsules for their different brews. The Vertuo, although it can make both regular coffee and fancy espresso drinks, only is compatible with Nespresso capsules. The Original Nespresso machine is mainly for espresso and drinks based on espresso. However, it is compatible with third-party coffee pods. Pricing is also a factor between the two. The Original Nespresso machine has a large range of models with a lower price point than machines in the Vertuo machine line.
Pump vs. Centrifugal Extraction
You should also be aware of the differences between the brewing technology and what that means for the beverages these machines produce. The Vertuo operates with Centrifusion for its brews. The machine will spin the capsule and use the force created to brew the coffee.
It creates a delicious brew, but you can tell there is a difference between the taste of a traditional pressure brew and a spin brew. The Original operates as close to a conventional espresso machine as possible with 19 bar high-pressure extraction. This feature is what produces such a strong brew in small quantities. Of course, you can't forget the all-important crema.
Are The Two Systems Compatible?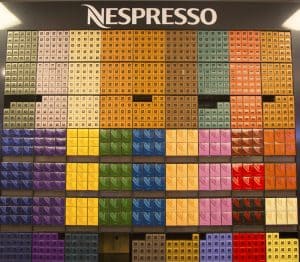 Nespresso machines use coffee capsules that are pretty standard in size. There is a diverse range of sizes and strengths in the Nespresso coffee range. You can also buy Nespresso-compatible capsules from third-party vendors online or in stores. This is only the case for the Nespresso Original line.
The Nespresso Vertuo line, at least so far, has not seen any coffee brands besides the Nespresso coffee selection. There are a large number of different coffee pods available for the Vertuo line that are all branded as Nespresso.
Nespresso is a brand by Nestle, which also owns some of the rights for Starbucks coffee. It would not be a surprise if, at one point in time, you'll see Starbucks pods become available for the Vertuo line.
It is important to note that only the original line is compatible with third-party capsules; the Vertuo-line is Nespresso specific. Nespresso capsules are also recyclable. They do use aluminum pods which can be dropped off at CollectPlus, Doddle, or a Nespresso boutique. There are a few other collection options as well.
Final Thoughts
Now that you have a wealth of information on the Nespresso Vertuo and the Nespresso Original, you can choose which machine is best suited for your needs. Both offer a great range of capsules and brewing options for both home and office use. The pod brewing system on each model is easy to use, maintain, and clean. The taste of the brews is as close to cafe style as you can get without kidnapping a local barista and putting them to work every morning. So what brew does it for you?
The choice between the Nespresso Vertuo and the Nespresso Original really comes down to your needs and your preferences. If you really love the taste and strength of espresso, then the original is probably your best bet. You can wake up to a variety of espresso-based drinks such as; ristrettos, flat whites, lattes, cappuccinos, and of course, the classic espresso. The Nespresso Original machine uses the pressure brew technique, which is the same that gives cafe drinks their rich, bold flavors. You also have the option of buying capsules from third-party vendors to expand your beverage choices.
If you like espresso but love a regular fix of coffee every day, then the Nespresso Vertuo is going to fit your personality perfectly. You can wake up to a regular cup of coffee or can switch it up with a stronger espresso-based beverage.
The Nespresso Vertuo machine uses a unique spinning technique for its brews which gives them a unique flavor profile with caffeine strength to last the whole day. There are also more cup size options that allow a wider range of users to enjoy a morning brew. There are no third-party options for brew capsules with the Nespresso Vertuo, so keep that in mind when making your selection. Happy shopping!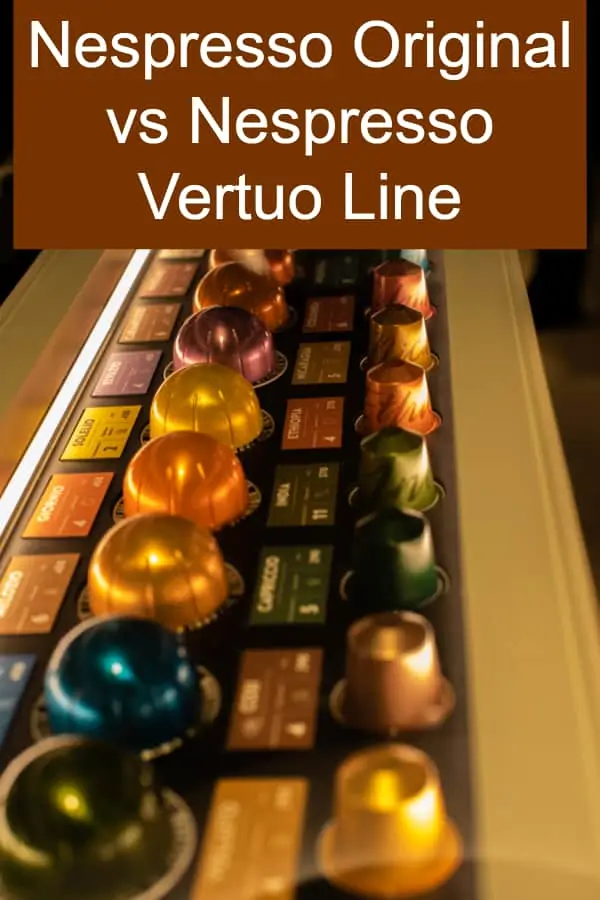 Please follow and like us: