One of the most convenient ways to brew yourself a splendid cup of coffee is to use the Nespresso brewing system. You can find the original line and the Vertuo system. Both provide different kinds of coffee flavors. Let's have a look at the best pods for Nespresso coffee makers!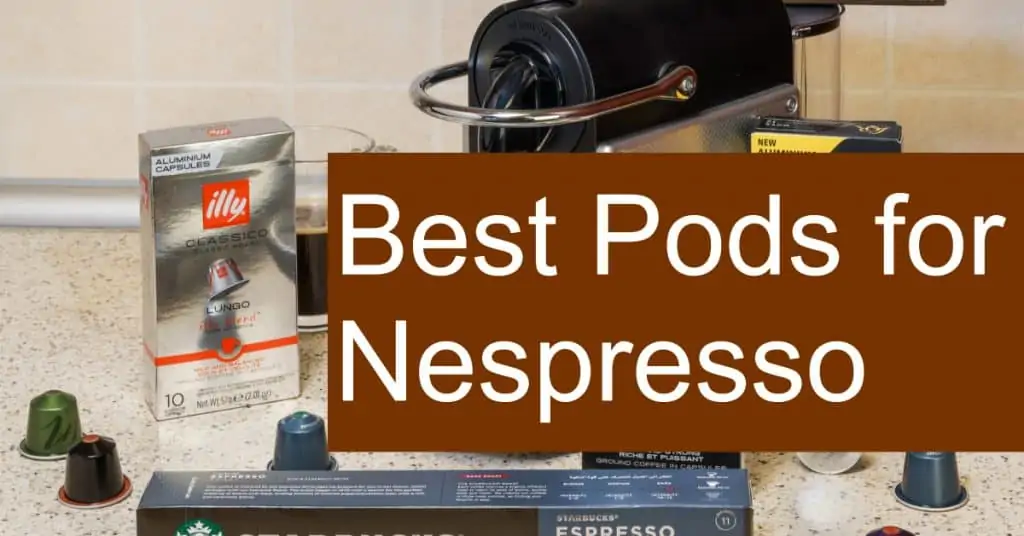 What Is Nespresso?
A lot of people have heard the term "Nespresso" but aren't sure exactly what it means. Simply put, Nespresso is both a type of coffee and the brand of a coffee machine that brews single-use pods to make coffee with a strength that is somewhere between that of a regular cup of coffee and espresso, which tends to be very strong. For the purposes of this article, we'll be concentrating mostly on the coffee machine and which single-use pods work best with it, which naturally depends on the flavor you're searching for and which pods are made to be compatible with the Nespresso machine.
Different Types of Nespresso Original Line
Types of Coffee Capsules You Can Get
The Nespresso original line consists of five different packages that contain 50 or more pods each. You can choose between packs of medium-roast coffees made with Arabica beans that come from areas such as Colombia, Tokyo, and Vienna; mellow blends that come from areas such as India, Ethiopia, and Nicaragua; dark-roast blends that come from areas such as Rome, Palermo, and other areas of Italy; a Discovery pack that gives you a taste of numerous blends of coffee with flavors such as vanilla, caramel, and others; and an Around the World pack with blends from just about every corner of the earth.
The packages come with 50 to 120 single-use pods, depending on the product itself, and the company offers these products at prices that are very affordable. You can also purchase them individually or in sleeves that come with 10 pods each. This is, in fact, a great way to sample a few different types of coffee that you think you might like, and it's good to know the company allows you to purchase the pods in a number of ways.
Amounts of Coffee They Make
Since each pod makes one cup of coffee, you can expect the sleeves to provide you with 10 cups of coffee, the packages of 50 pods giving you 50 cups of coffee, and so on. As a general rule, it is not recommended that you place too much water in your Nespresso machine for each pod that you use because the coffee will not taste like it's supposed to taste. While you can use a tad more water for larger coffee mugs, it's best not to water down your coffee too much because you are almost certain not to like the taste in the end.
Are Other Coffees Besides Nespressos Available?
If you're wondering if other brands of coffee pods can be used in your Nespresso machine, the answer is "yes," but there are exceptions. For that reason, it's best to read the directions on the package that the pods come in because while most pods are compatible, a few are not. Nespresso makes several types of coffee machines, and their fully-automated machines – such as the Expert, the Prodigio, and the Nespresso-U – are not always able to accommodate other brands of pods. This is mostly because these machines tend to be very sensitive and, therefore, even small variations in the types of pods you use can affect the final outcome.
For the most part, you don't have to worry about pods of other brands ruining the machine; that, in fact, is not usually the problem. The problem is usually that the coffee will come out not tasting like it is supposed to taste and let's face it, no coffee-drinker wants that. To get the perfect cup of coffee every time, you have to make sure you are using the right coffee pods and the right coffee machine. Since one coffee pod is always a bit different than the next one, including its basic design and size, you just have to do a little research to make sure that the machine you choose and the pods you wish to use are compatible, but this should never be a difficult task.
One more factor should also be taken into consideration, and that is the quality of both the coffee machine and the pods. As long as they are both reputable brands, they will be compatible with one another most of the time.
Different Types of Nespresso Vertuo Line
Types of Coffee Capsules You Can Get
Just like Nespresso's original line, the Vertuo line includes single servings, sleeves of 7 to 10 single-use pods, and many different blends and flavors. They are a little more expensive than the original line, and their packages include a Connoisseurs pack with four different types of coffee; a dark-roast pack with four different flavors, including flavors that are spicy, creamy, and rich; a pour-over starter pack that includes the coffee carafe and 28 different pods to enjoy; a Discovery pack that includes 60 pods and flavors such as Intenso, Caramel Cookie, and Odacio; and 100-pod Indulgence packs that come with 10 different flavors of coffee.
The good thing about the packs is that you can explore many different types of coffee without spending too much money on them. You can order them individually or in sleeves with as little as seven pods, so this gives you a good opportunity to decide which ones you like best, and you can always order more of the ones you like best afterward.
Amounts of Coffee They Make
Since each pod always makes one cup of coffee, it is easy to figure out how many cups of coffee each sleeve or package makes. But it is good to remember that you can make a standard cup of coffee or a large mug of coffee if you wish, and it all depends on how much water you put into your Nespresso machine when you first get started. Of course, you never want your coffee to be too weak or taste like it's been watered down, so it is good to not add too much water when you are trying to brew the perfect cup of coffee.
But you don't have to make it complicated. Nespresso's and other machines made to accommodate single-use pods are made to be simple to use, so as long as you're following the directions that came with the machine and the pods, you won't be disappointed by the taste of your coffee.
Are Other Coffees Besides Nespressos Available?
The original line has multiple other coffee brands that offer their flavors. You can find Starbucks, Peet's, and many others, just to name a few. The Vertuo line so far only has Nespresso branded capsules.
Nespresso is being owned by Nestle. Nestle also owns the rights for Starbucks coffee that is sold for single-serve coffee makers so it stands to reason that we will eventually see Starbucks coffee flavors being offered for the Nespresso Vertuo Line coffee brewers.
With these things in mind, it's good to note that there is a large variety of single-use pods on the market that are, in fact, compatible with the Nespresso Original machines. As long as you pay close attention, do your due diligence, and make sure you find brands that are reputable and produce quality products, you should be just fine.
Best Nespresso Original Line Capsules
Some of the best Original Line capsules for your Nespresso machine include:
Napoli, a very creamy coffee with a thick body and a taste that is similar to slightly bitter but pleasant cocoa. It is very dark and intensely roasted, and the .84-ounce pod sells for 70 cents when purchased individually, or you can get a sleeve of 10 pods for just $7. Coming from Naples, this is one of the darkest roasts the Nespresso brand offers, and certainly one of its most popular flavors.
Roma, which is described on the website as full and balanced. It has a high acidic level and offers the perfect balance of aroma, taste, intensity, and thickness. It is a light-roast coffee despite the fact that it is so intense, and it costs just 70 cents per pod or $7 for a sleeve of 10 pods. If you like intense coffee that tastes woodsy and a little like cereal, this is the coffee for you.
Cosi, which is a type of espresso and has a taste that is part East African, part South American, and part Central American. Indeed, Cosi offers all of the best traits of these three coffees, so if you love light-roasted coffee with a toasty taste that is a bit on the fruity side, you'll love this coffee. It is similar to some of the espresso made in Colombia and costs just 70 cents per pod on the Nespresso website.
Best Nespresso Vertuo Line Capsules
Some of the best Nespresso pods from the Vertuo line include:
Peru Organic. This coffee, with its smooth and balanced flavor, manages to have a taste that is a combination of fruitiness and sweet cereal. Because it is organic, it has a much cleaner taste, but its balance is so exact that the sweetness will never be overpowering or more than you can bear. The capsules are 1.35 ounces in size and cost just $1 per pod or $10 for a sleeve of 10. This is the perfect espresso whether you've just started drinking them or you've been drinking them for years.
Diavolitto. This is a very intense, dark, and powerful espresso that has leather and fine oak wood notes, as well as a very smooth and creamy texture that exemplifies what a great-tasting coffee should taste like. If you're a coffee aficionado but have never tasted this type of coffee, you owe it to yourself to give it a try. At just 85 cents per pod, or a 10-pack sleeve for $8.50, you also won't have to break the bank just to enjoy great coffee.
Best Decaffeinated Nespresso Capsules
If caffeine keeps you awake at night or you just prefer a decaffeinated coffee, below are some of the best ones to consider when shopping for single-use pods:
Decaffeinated Intenso (Original line). This is an espresso coffee that comes in 1.35-ounce pods. They are sold for 85 cents each, or a sleeve of 10 for $8.50, and the coffee itself is a medium-roast coffee, which should appeal to everyone. If you want something a little sweeter or creamier, you can add a little milk to it after it's brewed. But this is one type of coffee that nearly everyone should love, simply because of its bold taste and subtle texture.
Decaffeinato coffee (Vertuo line). The Decaffeinato coffee comes in 7.77-ounce pods and sells for $1.10 per pod, or $11 for a sleeve of 10 pods. It is a blend of Arabica beans from Colombia and Costa Rica, and it is round and smooth with a malty flavor. This medium-roast coffee is smooth and rich, and if you add milk to the finished product, it produces a slew of flavors that includes the taste of fresh nuts. If you want your decaf coffee to be smooth and not bitter, this is the one for you.
Best Flavored Nespresso Capsules
Nespresso coffee pods come in a lot of different flavors, making it difficult to determine the best ones. Nevertheless, here are a few flavors you are bound to love:
Bianco Leggero (Vertuo line). This amazing coffee has the flavor of a sweet biscuit, so if you love coffee that will satisfy your sweet tooth, this is the one to try. It is very smooth and creamy, and it has a very milky taste as well, although you shouldn't hesitate to add milk to it if that's what you want. You can have your cake/biscuit and eat it too with this delicious coffee.
Vanilla Eclair (Original line). People who love vanilla will love the Vanilla Eclair coffee pods. Its taste is very round and smooth, and the Arabica espresso beans used come from Latin America. The 1.35-ounce pods cost 75 cents each, or you can buy a sleeve of 10 for only $7.50. The name also suits the coffee perfectly because you'll feel just like you're consuming vanilla eclairs every time you drink it.
Best Variety Packs to Get
Nespresso makes some incredible variety packs that allow you to taste a slew of different coffees, and below are some of the best:
60-Capsule Discovery Package (Vertuo line). These delicious coffees are some of Nespresso's best, and this particular package has a lot of products they picked out themselves because they want their customers to try them. You get a total of six different coffee flavors, including Elvazio with its red berries, Stormio with its slightly spicy flavor, and Intenso, which is rich and has a smoky flavor. All of the pods come in a 7.77-ounce size.
50-Capsule Single Origin Package (Original line). This is a great package to get if you want to taste some of the classics. There is a reason why the classics never die, and this package has selections that include different flavors of coffee from areas such as India, Colombia, Nicaragua, and Ethiopia. The tastes include fruity, spicy, floral, and sweet, so you can experience a bevy of flavors with just one package. It is also an inexpensive way to try these flavors because you get all 50 pods for only $36.
Other Capsules to Try
As you can imagine, Nespresso makes dozens of capsules for people to enjoy, but not all of these capsules are your typical types. For instance, below are a few other types of pods that Nespresso and other single-use coffee machines make that you are certain to enjoy.
Hot chocolate pods, most of which are compatible with the Nespresso machine. Many companies that make instant hot cocoa now make them in pods as well, and on a cold winter morning, it is good to know you can pop one of these in your coffee machine and have steaming hot chocolate in no time!
Apple cider pods. One of the companies that makes these pods is Mott's, and they are a reputable company that always provides high-quality items, which now includes these wonderful pods for making instant hot cider.
Latte. Yes, latte can now be found in pods, making it much more convenient for people to enjoy this creamy drink without having to go to a coffee shop and over-pay for it.
There may also be other types of pods now available since newer pods are coming out almost daily. Nespresso makes a high-quality machine and dozens of pods for you to enjoy. To begin with, you should decide which machine to buy and what you'll be doing with it. That should make it easier to go to the next step, which is buying the pods.
Please follow and like us: