If you're at all into coffee, then you probably have come across a Nespresso coffee maker before. Nespresso is the (single-serve) coffee brand of Nestle. In Europe, the Tassimo system was widespread a few years ago and did compete with the Nespresso system. Which system is the better one when you compare Tassimo vs Nespresso? Let's have a look, shall we?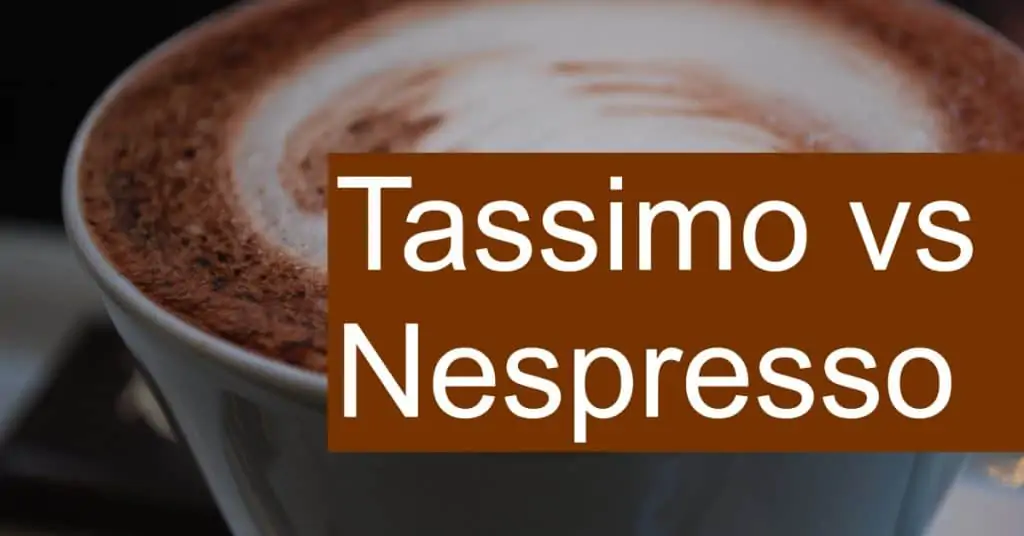 Overview of Nespresso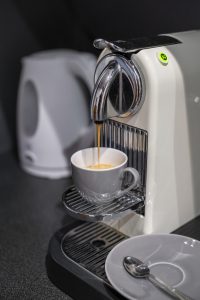 The reason this brand is called Nespresso is because it is a machine that brews coffee and espresso. The name is a combination of the company that owns the brand, Nestle, and the word "espresso." These coffee machines use single-use, disposable pods filled with coffee grounds that are pierced when you first put them in the machine then processed to make a great cup of coffee. All of their pods are made in one of three plants in Switzerland, and although the machines and pods are very popular in the United States, they are found in many other countries as well.
As of this writing, Nespresso sells a total of 28 different robusta and arabica coffees on their Original line. Each coffee pod is hermetically sealed and, therefore, they don't lose their flavor, aroma, or freshness after you buy them. All of their pods fall into one of two categories: their Original line and their Vertuo line.
Nespresso Original Line
As mentioned earlier, the Nespresso Original line consists of a total of 28 different coffee flavors. Their names and flavors include Shanghai Lungo, Venezia, Jamaica Blue Mountain, Vanilla Eclair, Cocoa Truffle, Palermo Kazaar, Firenze Arpeggio, and Cape Town Envivo Lungo, among others.
They make several decaffeinated coffee pods as well, and the pods start at just 70 cents each if you buy them on the Nespresso website. They also have specialty packages that allow you to sample many different flavors, as well as basic Italian coffees from places such as Naples, Rome, and Palermo.
In addition to these flavors, the Nespresso Original line has specialized flavored coffee pods that feature flavors such as vanilla, caramel, and chocolate, in addition to coffee from all over the world, which includes places such as Nicaragua, India, Indonesia, Colombia, Ethiopia, and Peru. You can buy all of these pods online either individually, in sleeves of seven pods, or in sample packages that contain many different flavors for you to enjoy.
Nespresso also licensed the design of the Original line coffee pod to enable other coffee brands to provide compatible pods with their own tastes and flavors for the Nespresso Original line pod machines. You can get compatible pods from Starbucks, Illy, Lavazza, and many others.
You can add multiple accessories to the Nespresso pod coffee machine including a milk frother, storage trays for the coffee pods, etc.
Nespresso Vertuo Line
The Vertuo line of coffee pods comes in a huge variety of flavors. This line consists of names and flavors such as Bianco Leggero, Bianco Forte, Hazelino Muffin, Chocolate Fudge, Peru Organic, Dolce XL, Intenso XL, Melozio, Stormio, and Double Espresso Chiaro, among others. They also make a few decaffeinated flavors, as well as a variety of coffees that come from areas such as Ethiopia, Costa Rica, Mexico, and Colombia.
If you visit the company's website, you can buy these pods online, starting at only 85 cents per pod. They also have packages that allow you to sample several different flavors so that you can decide which ones you like best. In fact, the website makes it super easy to order the products, which includes not only the pods but the machines and accessories as well, including the Aeroccino milk frother, carafes, and even different food products.
At this point you will only find the pods for a Vertuo Line coffee machine from Nespresso itself. The pod design has not been licensed so each coffee pod you can get for your coffee machine is from Nespresso itself.
Is Tassimo or Nespresso Coffee Better?
Now comes the interesting question: which is coffee is better, Tassimo or Nespresso? First of all, it depends largely on how you want your coffee to taste, but make no mistake about it – both of these brands of coffee make high-quality products and pods that make delicious cups of coffee every time. The best way to determine which one is right for you is to compare various features to figure out which one you prefer, so let's take a look at some of these features.
First of all, Nespresso is advertised as an espresso-type drink, which is why a lot of people buy them in the first place. By comparison, the Tassimo machines are made to brew regular coffee, even though some of their pods may taste a little like espresso. If espresso is something you are specifically looking for or wish to avoid, this is a good thing to keep in mind.
Next, the way the coffee is made is also different. The Tassimo machine has a longer infusion time than the Nespresso machine, which relies on high pressure to push the water through the grounds quickly. While Tassimo takes about 60 seconds to make a cup of coffee, Nespresso takes 15 to 30 seconds to do the same. The reason for the shorter time is due to the fact that Nespresso machines are made to brew a drink that tastes like an espresso.
Finally, there is a difference in the pods for the coffee makers themselves. The T discs by Tassimo are made by more companies than the Nespresso pods are, which means it might be easier to find Tassimo pods than pods made by Nespresso. This being said, both pods are not that difficult to find if you look at the whole picture.
Can You Make Anything but Coffee?
Both Tassimo and Nespresso make more than just regular coffee. They both make decaffeinated varieties of coffee, and Tassimo also makes the following drinks:
Cappuccino
Espresso
Green tea
Hot chocolate
Latte
The lack of choices with Nespresso might be because the coffee they make is supposed to be espresso, so this is what they do best. Since they emphasize their delicious espresso drinks, the company may not have the desire to highlight other products in addition to this one.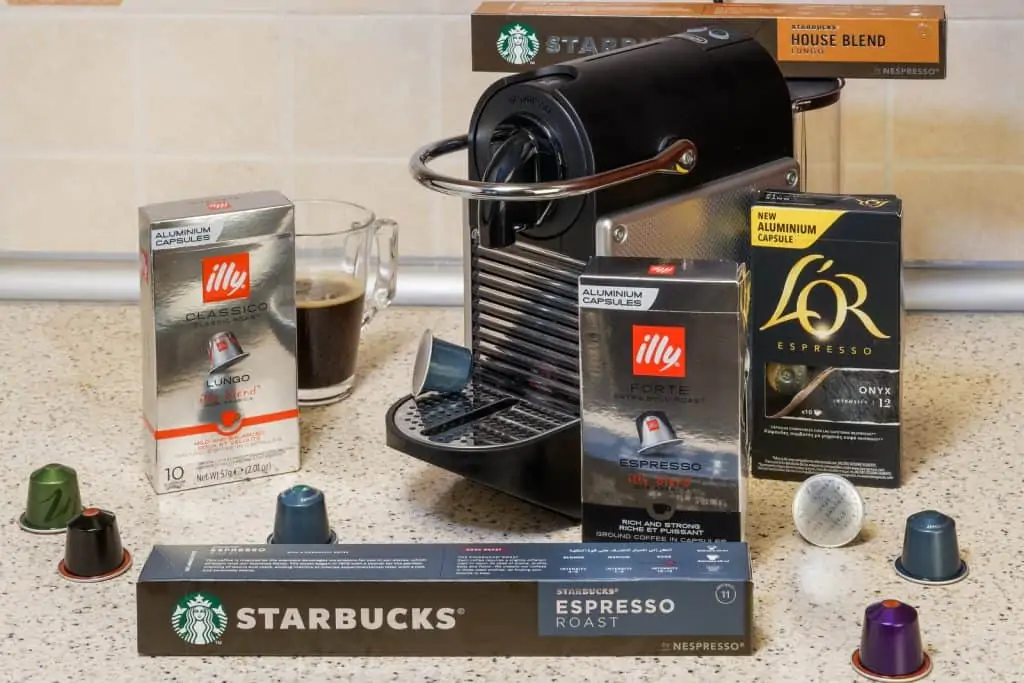 Is Tassimo Compatible with Nespresso?
It is a bit more difficult to find coffee pods that are compatible with a Tassimo pod machine, thanks to their T discs being a little different in shape and size than most single-use pods. On the other hand, there are various third-party pods that are compatible with the Nespresso coffee machines system, including the following:
Artizan
Bestpresso
Cafe La Llave
Gourmesso
Lavazza's "Blue" Capsules
Legato Intenso
Peet's Coffee
If you're wondering if the Tassimo pods and the Nespresso pods are interchangeable, they are not. Again, the T discs are a specialized type of coffee pod used by Tassimo for their pod machines, so it is difficult to use any other type of discs in the Tassimo coffee machines.
If you're interested in knowing which pods are compatible with what coffee machines, make sure you do a thorough search through the instructions that come with both the machine you purchase and the pods recommended for that machine. If it doesn't specifically say that a certain machine is compatible with a certain single-use pod, then you should never try to combine these two items.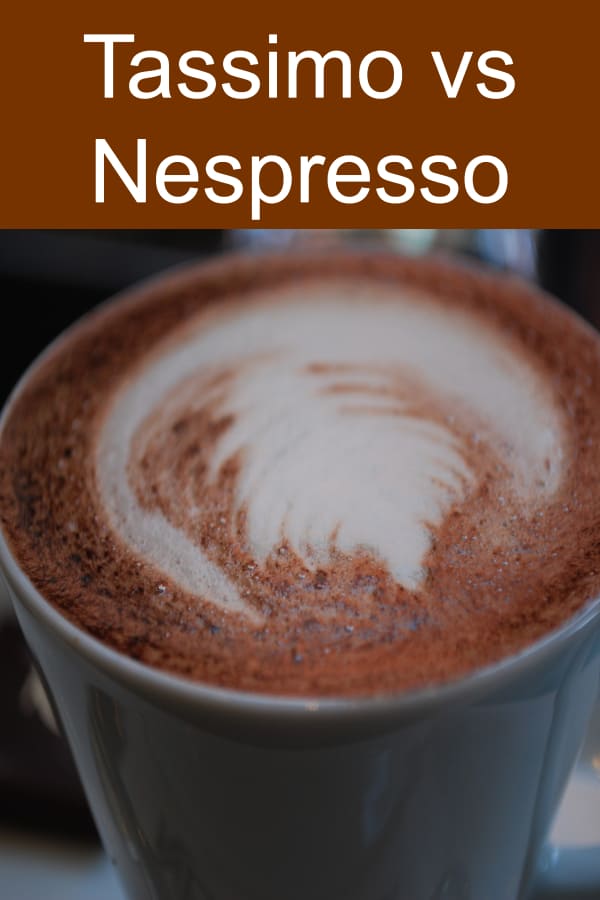 Please follow and like us: